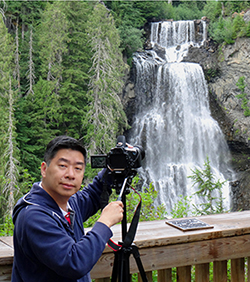 Since 1995, Sayson Productions Ltd. has been providing outstanding award-winning video production services in the Greater Vancouver area and beyond.
Sayson Productions is owned and operated by internationally acclaimed videographer and producer, Danny Sayson. Sayson has received numerous national and international awards for his outstanding achievements in television and video production. Sayson was also twice named as one of the Top 25 Videographers in North America by Event DV Magazine. In 2008, Sayson was awarded with a Lifetime Achievement Award by the British Columbia Professional Videographers Association for his outstanding achievements in the video production industry.
Danny Sayson is also the director and producer of the hit television series, West Coast Adventures, a show about fun, travel and adventure in the beautiful outdoors of British Columbia and beyond. To date, the show has aired in over 9 countries, including Canada, US, China and many countries in Southeast Asia.
Sayson graduated from the University of British Columbia in 1992 with a Bachelor's Degree in Arts. He then furthered his education by acquiring his training in Broadcast Communications at the British Columbia Institute of Technology, graduating with honours.
Danny loves to share his passion for videography and frequently conducts training seminars both locally and across North America, teaching professional development classes to thousands of videographers from around the world.
In addition to teaching, producing and running his own business, Sayson also works in the thrilling field of sports broadcasting. He is a freelance sports production specialist performing camera, editing and instant replay work for the Vancouver Canucks, Vancouver Giants, BC Lions, and Vancouver Whitecaps. Sayson has covered some of the biggest sporting events in the world, including the Vancouver 2010 Winter Olympics, The NHL Stanley Cup Finals, and the CFL Grey Cup.